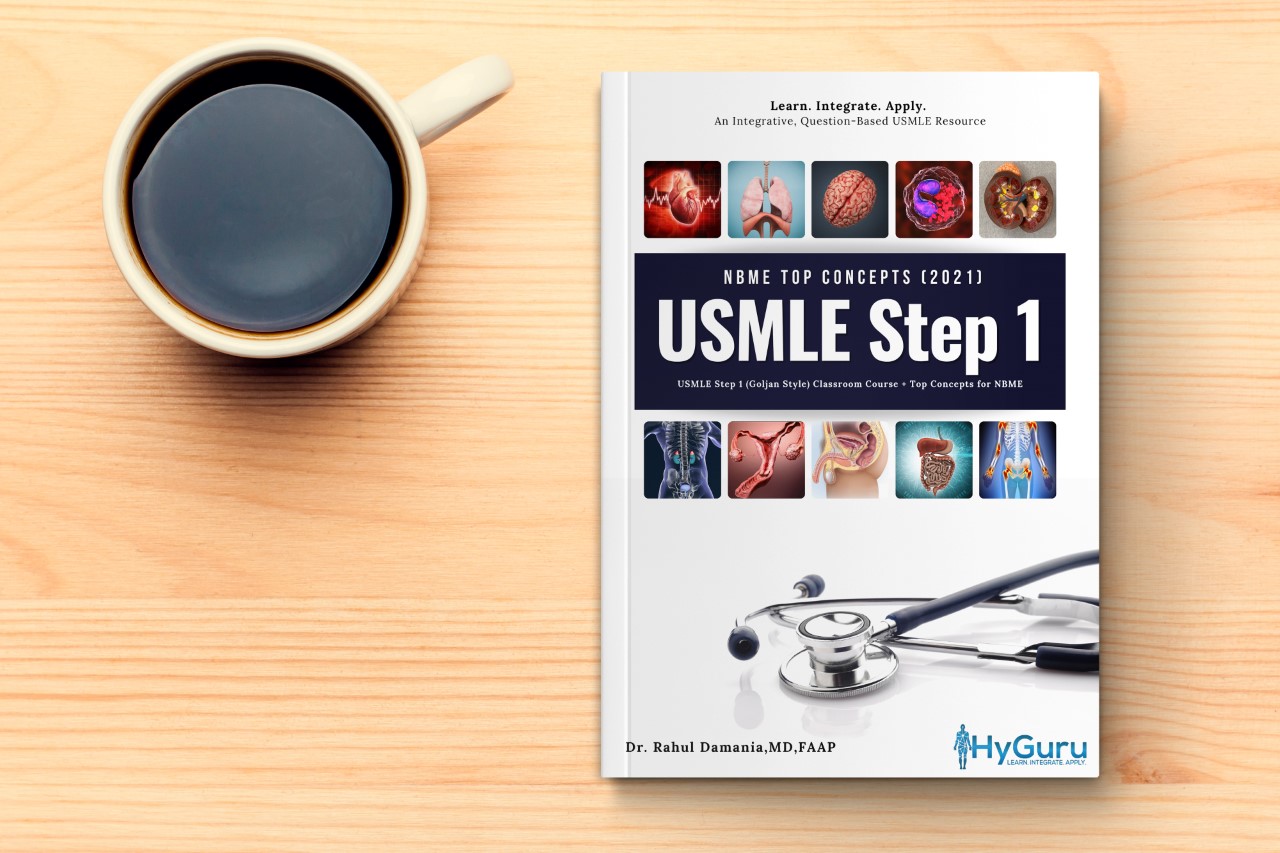 10 organ systems
covering the highest yield pathophysiology in a question-based manner and derived from NBME-style practice exams.
14 hours
of free content on top NBME & USMLE exam concepts and high-yield images. The equivalent of doing hundreds of questions in preparation for the USMLE Step 1.
475 pages
of premium course notes organized by organ system for easy follow-along. $75, printed and shipped via Amazon to the comfort of your study space. Just $55 for the secure downloadable PDF.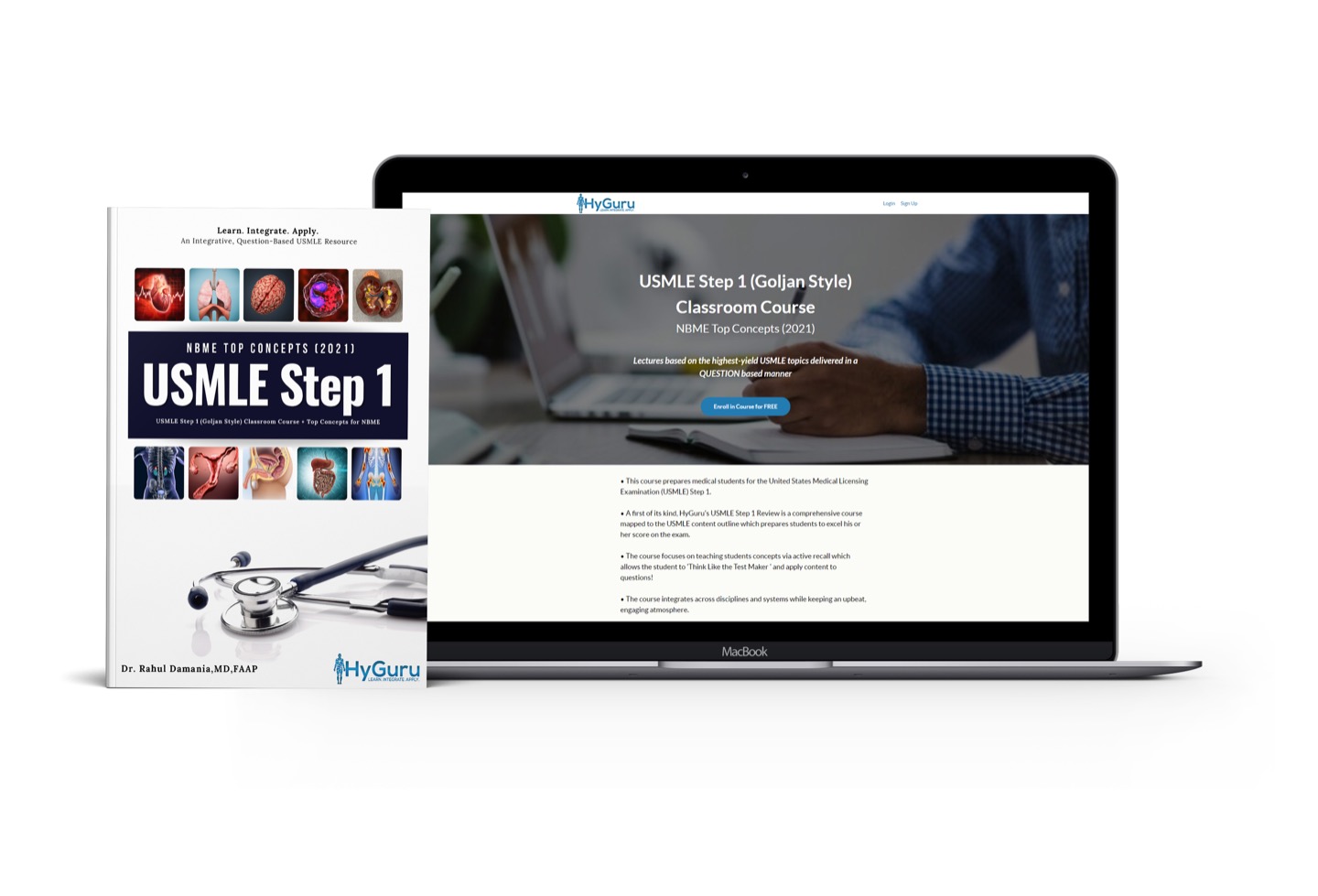 About the Course
---
Get a feel for HyGuru teaching with this free course comprised of the pathophysiology section and some of the High Yield Images lectures from our Step 1 Pass/Fail Course. This course is a great way to accomplish a high-yield Step 1 pathophysiology review. We cover hundreds of NBME-style questions and high yield images across all organ systems in an integrative, active recall manner. Follow along with this course using the NBME Top Concepts Notes.
How is this course different from HyGuru's USMLE Step 1 Pass/Fail Course?
---
While the NBME Top Concepts Course is a fantastic review for Step 1 pathophysiology, it's not as comprehensive as our Step 1 Pass/Fail course. The Pass/Fail course is mapped to the USMLE Step 1 content outline and augments each organ's pathophysiology with its physiology and pharmacology integrated with the relevant immunology and biochemistry. The Pass/Fail course is the most integrative and efficient way to master Step 1 content and prepare for the exam. See the table below for a side-by-side comparison of the two courses.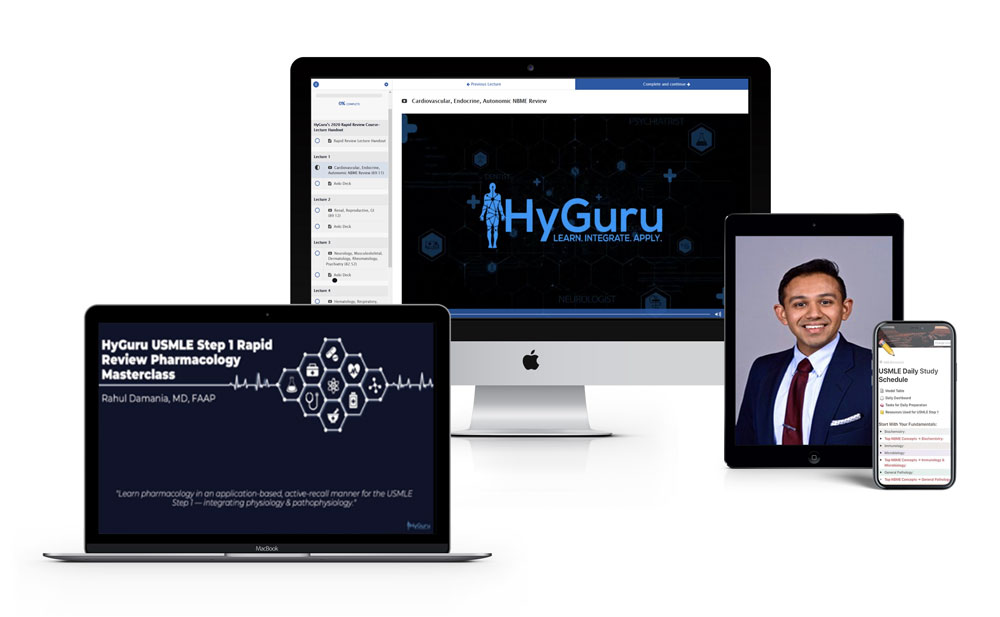 Video Run Time
USMLE Subjects
Mapped UW Questions
Handouts/Notes
High Yield Images for the USMLE
Quizlet Cards
NBME Top Concepts
14 Hours
Pathophysiology
HyGuru Pass Fail Course
66 Hours
Comprehensive
HyGuru makes it simple.
---
In listening to our free interactive lectures, you'll do hundreds of NBME Step 1 style questions while mastering the subject matter.
A Course Focused on Helping you Succeed on the USMLE Step 1.
Active recall lectures will help you learn, integrate & apply material for an efficient learning experience.
Premium, high-quality interactive lecture notes which follow the material covered in the videos.
400+ pages of interactive notes to follow along with lectures easily. $75 printed and shipped to you via Amazon or $55 for the secure downloadable PDF.
Our USMLE Step 1 Course Curriculum
Follow along with the Videos with my Premium NBME Top Concepts Notes
---
Shipped directly to your study space. They contain diagrams and key principles from high-yield USMLE resources. In the 14 hour course, you will be able to get through this 335 page book cover to cover.
Free Downloadable PDF Preview of our Course Notes - Cardiology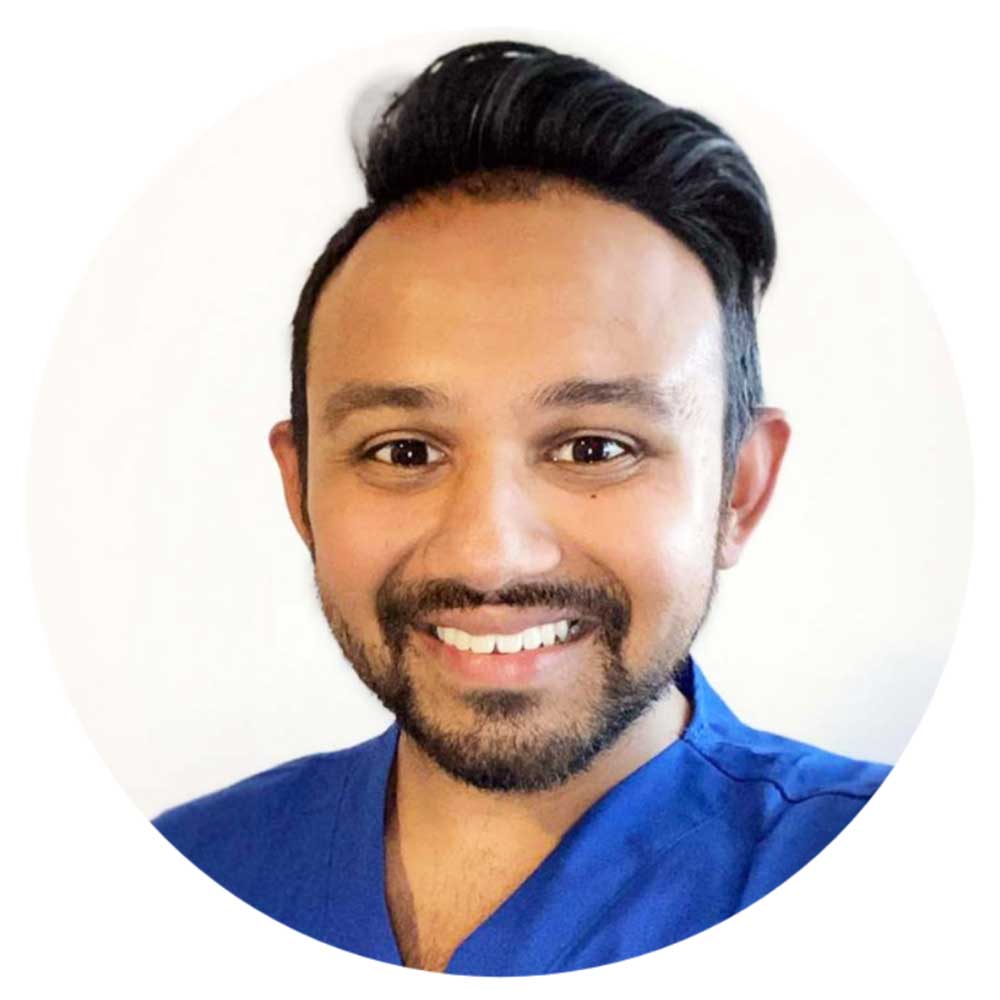 Dr. Rahul Damania & his USMLE Step I Track Record.
Dr. Rahul Damania, who himself scored above the 90th percentile on Step I and II, has over 5000 hours of USMLE teaching experience at top tier medical schools. He has a knack for helping those who have struggled with Step I achieve success, a testament to his commitment to his students.
A born educator and motivator, Rahul continues to augment his educational portfolio through old-school hard work and an authentic pledge to his students' success. Rahul walks the walk as a soon-to-be PICU attending. He believes that his credibility as a teacher is forever rooted in the bedside work he does as well as in an enduring willingness to listen to and learn from his patients.
Learn, Integrate, & Apply with HyGuru's evidence-based methodology – start mastering content for the USMLE now.
Frequently Asked Questions
HyGuru is the only comprehensive & integrative course that is mapped to the USMLE Content Outline
Our goal is to give you a focused, high-yield review that allows you to review in a question based manner - you are basically doing over 1500 active recall questions! Imagine you are doing both questions & content review at the SAME time!
This course is a totally FREE course which features USMLE Step 1 videos as well as pertinent USMLE Step 1 style questions!
All you need to do is make an account with your school email and enjoy the high-yield review.
Rahul is personally dedicated to your score and many students have had great success with his affordable 1-on-1 core curriculum!
Email Rahul at [email protected]
Start by liking and sharing our facebook page!
Become an ambassador at your school and spread the word - we will change the face of medical education together!